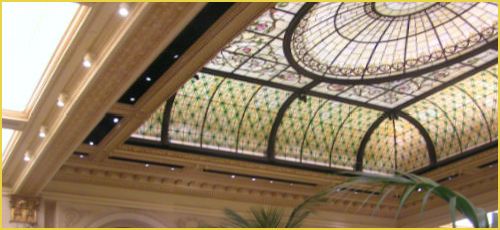 Dear Friends of Western Civilization,
It has been a while since I've updated you on my book and website project, but that doesn't mean I've been idle.
Here are some of my recent activities:
- I continue to update my website Reclaiming Beauty regularly, with the aim that it becomes an online record of activities that includes a wide range of contributors, and eventually develops into a "Beauty Movement."

- An American publisher has shown interest in my book, and is reviewing some sample chapters and the website Reclaiming Beauty.

- I have applied for a research grant at the New York Public Library.

- I have traveled to the New York Public Library several times to use the library's great research facilities.

- I have also traveled several times to New York to meet with a "round table" of friends and like-minded people to discuss literary, cultural and social topics, and to have a good meal together.

- My most recent trip was at Christmas 2013.

- I visited some first class exhibits while in New York, including an exhibition of clocks at the Frick Collection, which I discuss at Reclaiming Beauty.

- I walked through the city's various neighborhoods, and toured the city using the city's buses as my own personal tour buses (I recommend this method highly!).

- I have read several books, including re-reading Washington: A Life, by Ron Chernow, and recently started a delicate piece of fiction titled: On Canaan's Side by Sebastian Barry (obtained from a book store's bargain bin - don't ever under-estimate bargain bins!).

- I continue to take photographs with the aim of using some for my book chapter headings.

- I have a separate photography site at Kidist P. Asrat Photographs.

- I have articles published in various magazines, which I've posted at Kidist P. Asrat Articles.

- My design show-case website, Well-Patterned, provides me with designs for various projects.
Camera Lucida, an art and culture blog which I maintained for eight years until I started Reclaiming Beauty last year, is still online.

- And for more on my regular observations, opinions, reviews and critiques, please visit Reclaiming Beauty.
Thank you to those who have funded my various activities, including my travels to New York, and other recent contributions.
Which brings me to the important part of my email.
A contribution towards my projects would be much appreciated.
As you can see, book writing is a long effort. But, every part of it has so far been enjoyable, interesting and immensely educational. I do hope that it will be the same for others once it is finished.
And maintaining a website with almost daily postings for this number of years is unusual, where blogs are abandoned with regular frequency. But, I think I have found the "magic ingredient." It is to expand the posts to a larger social
The donations button is at
Reclaiming Beauty
, on the side margin under "Support."
Thank you for your support.
Sincerely,
Kidist Paulos Asrat
Sculpture of St. Michael in the front lobby of
St. Michael's Hospital

St. Michael is slaying Satan,
with his finger pointed up at God.

[Photo By: KPA]

More at:

Reclaiming the Beauty of
St. Michael's Hospital

and

St. Michael's Foundation
-------------------------------------------------------------------------------------------------------------------------------------------------------------
Posted By: Kidist P. Asrat
-------------------------------------------------------------------------------------------------------------------------------------------------------------